Subdivision Approved – 53 lots – Fernvale, Somerset Region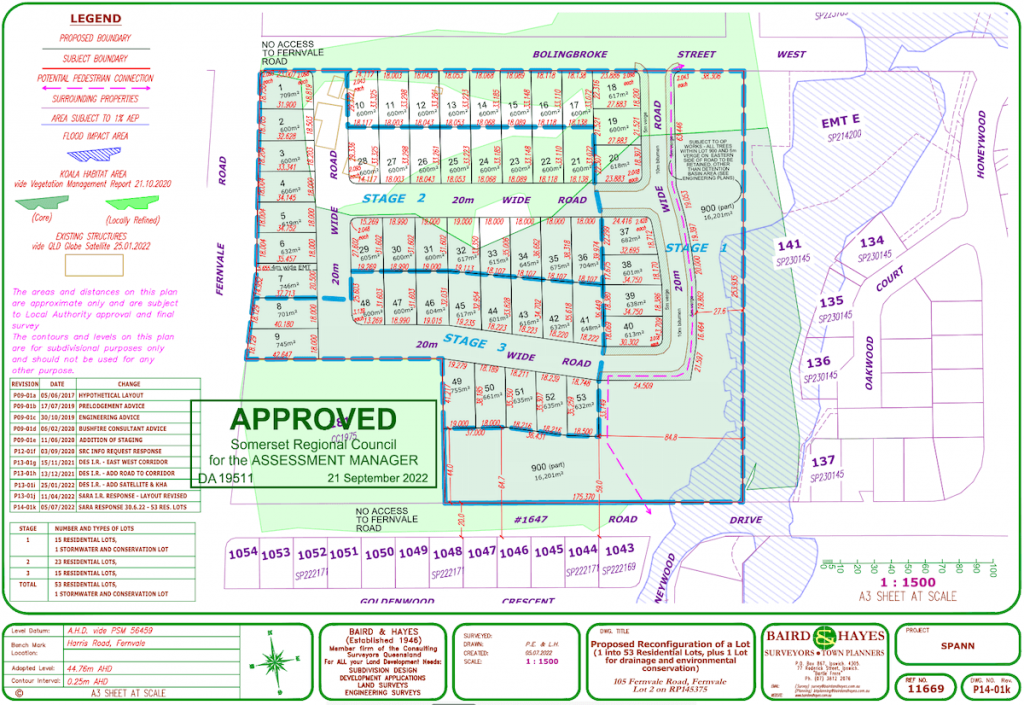 Baird & Hayes have successfully obtained subdivision approval in 2022 for 53 residential lots over prime land in Fernvale Township – Somerset Regional Council (and if you're interested, you can find the approval on Council's website). As you would expect, the delivery of these lots is vital for the ongoing success and growth of the region. Would you believe this took 2 years worth of negotiations with Council and, mostly, the State Government? The project was a dream for the owner's to help them on their way toward retirement and it was a pleasure to have assisted them through the process. In the end, a wonderful result that epitomises ecologically sustainable development. A balance of vegetation retention and replanting, and urban development over urban land.
Key concerns related to:
watercourses: where we were required to report on known constraints and identify developable areas.
core koala habitat: which required an understanding of new State Government legislation which was new to everyone involved. We settled on reasonable mitigation of impact with the provision of offsets and onsite replanting and a dedicated corridor.
civil design requirement changes including increased road widths in Somerset Region and lot re-design during ongoing negotiations with the State and Local Government.
Overall, the main challenge was the new koala habitat legislation which was introduced in February of 2020. Throw in the mix the issues of COVID and the project certainly had its moments! However, full credit to the owner's of the land while we helped guide them through the subdivision approval process. And full credit to the consultants below!
We know we can help you too! So please have a look at our services that we offer and contact us on (07) 3812 2076.
Project info
Info: 53 Residential Lots, Plus 1 Open Space Lot
Client: –
Categories: Residential, Subdivision
Location: Fernvale – Somerset Region
Year Approved: 2022
Consultants
Planners: Baird & Hayes
Surveyors: Baird & Hayes
Civil: Hunt Michel and Partners
Traffic: Bitzios Consulting
Ecologist: Rob Friend & Associates